Warehouse managers have been forced to change many of the procedures they operate by over the past two months due to COVID-19. From sanitation guidelines to interrupted supply chains, 3PL companies have had to adapt to the changing times. These events have led to significant delays in operations and some decline in the overall business. However, as we move into this post coronavirus world, the demand for warehouses is expected to surge for several reasons.
The move away from traditional retail toward online eCommerce continues to be the leading cause. Companies such as Target, whose online sales grew 141 percent last quarter, recognize that they need more fulfillment centers as online shopping will continue to rise in popularity.
In an uncertain economy, many retailers who have been unable to turn inventory frequently just need a place for temporary storage.
These small business retailers will increase the demand for micro-warehouses (under 100,000 SF) as opposed to large regional distribution centers which businesses may be more hesitant to commit to during uncertainty.
In addition, struggling businesses, many of whom have been forced to lay off employees, are looking to reduce costs. Some will consider that they can minimize costs in distribution by outsourcing to an experienced 3PL who will provide a solution for their warehouse and fulfillment needs.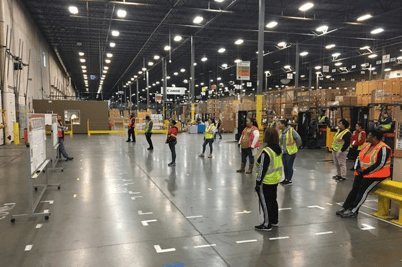 Temperature-controlled, food-grade warehouses are also likely to see an uptick in demand. Because many people are hesitant to leave their homes, there has been a large consumer shift to having groceries delivered through online services. Online grocery sales increased by 33 percent in April from the previous month, and an estimated half-million Americans made the switch to some form of grocery delivery, according to Digital Commerce 360. This increase has caused grocers to consider that it may be essential to have additional warehouse space to fulfill these orders if their delivery sales continue to grow.
Spartan Logistics is prepared to solve these issues, through our footprint of public warehouses and our 1 million square feet of food-grade warehouse space in the Midwest. These warehouses are being cleaned and sanitized daily to ensure a clean and stable environment for our employees, as well as ensuring safety and sanitation requirements are met by our customers. Spartan has been fortunate in that our operations have been able to safely operate throughout the shutdown while following shelter-in-place safety protocols. Our employees have been fully dedicated to providing a logistics solution for your business throughout this time. While warehouse demand may decline in the short term due to many restrictions which have devastated the economy, there will be significant long-term growth in the industry as part of the "new normal."
Give us a call at (614) 497-1777 to discuss your options.
Topics: Rise of 3PL Services, Rise of 3PL Fulfillment Services, Future of Logistics, Logistics News