Kansas City is one of many cities that has experienced unprecedented industrial growth in the past few years. It has been a popular market for locating a warehouse for several reasons including:
Its central location within the U.S. gives the city a strategic advantage, as you can reach 85 percent of the U.S. population within two days shipping time. It is nearly equal distance to each of the four coasts, making sense for national distributors looking to save on freight costs.
There are 6 major interstate highways, which allows for easy highway access for local carriers and for over-the-road providers to send their shipments in any direction.
With most of the largest rail carriers having operations in the area, KC is one of the largest rail centers in the country. This presents ideal solutions for companies looking for intermodal solutions.
The city's population growth has contributed to a steady workforce and has allowed providers to consistently staff their operations. Multiple surveys have shown that there are over 150,000 employees working in logistics and manufacturing in Kansas City.
These are just a few of the reasons why manufacturers are choosing Kansas City as a distribution center. As a result, there is an estimated 13.6 million SF of new warehouse space under construction throughout the greater Kansas City area, and there doesn't seem to be any signs of slowing down.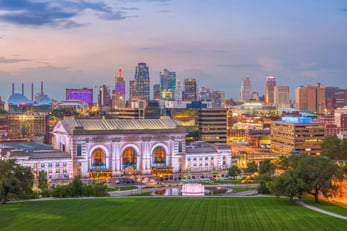 Spartan Logistics first went to Kansas City in 2016 for a customer who was looking for a trusted provider to run their operation in the KC market. The original 128,000 SF warehouse was a dedicated facility and provided a great opportunity to enter the market.
In 2019, A fortune 500 manufacturer came to Spartan with an immediate need in the KC area. In less than 45 days, Spartan was able to locate a second facility to provide a solution for the customer. This included not just locating the building in a short time frame, but hiring a team, procuring equipment, designing the operational layout, running temperature control, and much more. This type of flexibility is something that Spartan prides itself on and is made possible through its team of warehouse experts.
In our 6+ years in Kansas City, we have serviced many different types of customers, industries, and operations and look forward to continuing that growth. Today, we operate a total of 226,000 SF in Kansas City which includes service for one of the largest paper manufacturers in the nation. We have current opportunities with warehouse space available and have options for short-term or long-term agreements to fit your supply chain needs in 2023 and beyond. We love working with new and current customers to bring new solutions into action.
---