Learning the difference between a Third Party Logistics (3PL) and Fourth Party Logistics (4PL) as well as 1PL, 2PL, and the rise of even Fifth Party Logistics (5PLs) is both confusing and highly debated among those in the supply chain industry. While each layer of a logistics provider serves a specific purpose, it's important to remember that there are varying degrees of expertise and capabilities among each.
What exactly defines a 3PL?
A third party logistics company is one that manages another company's logistics operations department. 3PL is the action of outsourcing all or much of a company's logistics operations to a specialized company. For instance, Spartan Logistics provides its customers with turnkey 3PL services- warehousing, cross-docking, inventory management, fulfillment, and transportation services. In 2008 legislation passed declaring that the legal definition of a 3PL is "A person who solely receives, holds, or otherwise transports a consumer product in the ordinary course of business, but who does not take title to the product." We 3PL's have a large footprint throughout the country. This makes it viable to service clients in remote regions at a much lower cost than doing it themselves. 3PL's tend to "walk the extra mile" to accommodate many of the responsibilities that would assume a 4PL's role ultimately.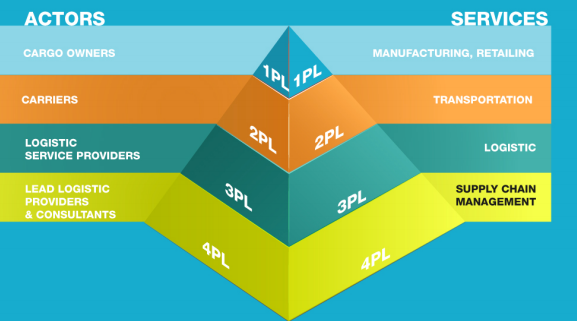 What exactly defines a 4PL?
The concept of a 4PL provider is an integrator that accumulates resources, capabilities and technologies to run complete supply chain solutions. A 4PL company takes over the logistics section of a business, managing the entire process, and at times, the 3PL. An example here would be an appliance importer-The main function is to import appliances. However, they need to have spare parts (fans, motors, etc.) for these appliances-a 4PL would manage the total logistic operations for the spare parts business.
Ok, so what about all the other "PLs?

In the "PL" terminology, it is important to differentiate the 3PL vs. 4PL from the other logistics layers such as:
First Party Logistics (1PL)
Concerns cargo owners which can be the shipper (such as a manufacturing firm delivering to customers) or the consignee (such as a retailer picking up cargo from the supplier). They dictate the origin (supply) and the destination (demand) of the cargo with distribution being an entirely internal process assumed by the firm. With globalization and the related outsourcing and offshoring of manufacturing, distribution services that used to be assumed internally tend to be contracted to external service providers.

Second party Logistics (2PL)
Concerns the carriers that are providing a transport service over a specific segment, which would involve a maritime shipping company, a rail operator or a trucking company that are hired to haul cargo from an origin (e.g. a distribution center) to a destination (e.g. a port terminal).


Now, along comes the 5PL who guarantees the management of networks of supply chains. The industrial chain hires third parties for the supply of stragegic, logistical solutions and concepts.

Separate from these services are the brokerage communities-those who will match providers because they neither own or operate trucks or warehouses, but simply earn commissions.

Now, you might question anything more elaborate than a 3rd party providing logistics consultation or management. So why continue using a 3PL? Not every company has the financial resources and the time to redesign or strategize their entire supply chain. Often companies prefer to outsource specific processes that are in need of being fixed. Some companies prefer to have control over the core design and let various parties, such as 3PL's handle the elements within.
Topics: Common 3pl Questions