Tornadoes, floods, four-alarm fires, hurricanes, and other natural disasters are a doomed reality for any business. In 2012 I experienced such a disaster while working for an industrial company with no emergency plan in place. Without much warning, a tornado ripped through the rural county leaving a 1/4-mile of destruction along the way. Employees were not alerted where to seek shelter or lockdown—it was complete chaos. I was told by company personnel…"The county was a low-risk area for tornadoes so we didn't see the urgency in pre-planning for such a disaster." It's like watching the news and you're thinking…that could never happen here.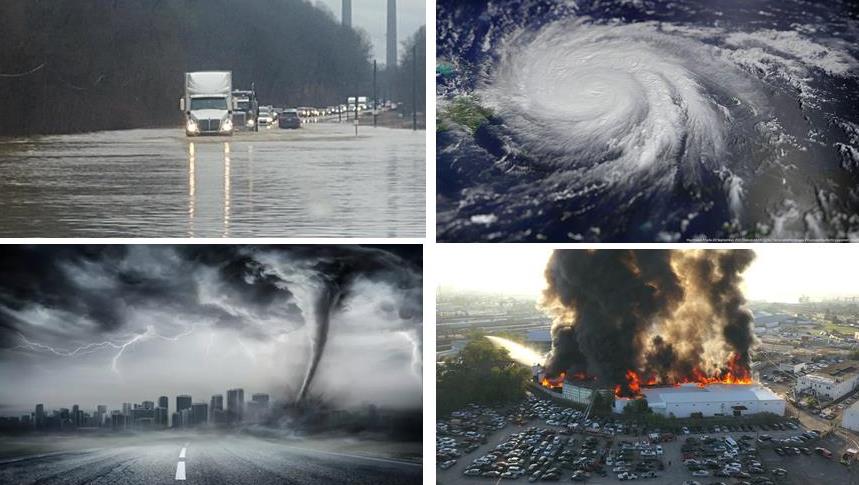 So How Do You Prepare?
The following is a list of critical procedures to implement:
Designate an emergency planning team
Develop an emergency disaster plan
Designate employees to perform key emergency leadership roles
Practice as many of elements of your plan throughout the year
Have a customer communications plan
Document a list of emergency contacts
Perfect a procedure to inform employees of an emergency
A fully stocked first aid kit
Up-to-date fire extinguishers
A safe indoor/outdoor gathering point
A list of equipment that is required to be shut down or secured
Secure flammable liquids and tanks
Make sure everyone has photo identification available— local authorities may only permit people who own property in a disaster-affected area.
Plan to temporarily relocate inventory and equipment
If a disaster should strike, does your company have a plan in place to relocate equipment or inventory to a warehouse while evaluating damage or rebuilding?
You should be backing up and safely storing your most crucial data: Your business license, payroll information, contracts, legal documents, financial statements, and any other critical business and customer documentation. To be safe, encrypt your customer data, digitize paper documents and store all data in a secure, cloud-based document management system. Following a disaster, make sure your vital records are securely accessible from a desktop or mobile device you're using.
Keep Your Emergency Plan Current
Beyond the basics, create a crisis management team to develop an ever-changing emergency disaster plan that applies to your community. The possibilities of what can go wrong are endless. Next, consider training personnel on the course of action and what to do in the aftermath. Whether natural or man made, large or small, disasters and emergencies can have a dramatic impact on your company's infrastructure, profitability, and ultimately your ability to keep your doors open.
Include Spartan Logistics as part of your emergency disaster plan for warehouse storage and distribution. Check out the complete list of Spartan locations:
https://www.spartanwarehouse.com/locations
Spartan Logistics' warehouse locations are near the central part of the U.S., placing them within a one-day truck delivery time to:
2/3 of the population of the U.S. and Canada
60% of the manufacturing companies in the U.S. and Canada
Cities such as New York, Chicago, Baltimore, Detroit, Cleveland, and Pittsburgh, as well as most other major cities in the Midwest and on the Eastern Seaboard
Nearly 3 million square feet of industrial space, or more than 30% of U.S. market and half of the Canadian market
Spartan Logistics is equipped to handle all your contract storage needs including textiles, paper products, food and beverage, glass, automotive supplies, furniture, and more. We've been in business for over 30 years, giving us unmatched experience to meet your current, emergency and future needs.
Contact Spartan logistics at (614) 497-1777 to discuss our locations and services further, or find us at www.spartanlogistics.com
Topics: Rise of 3PL Fulfillment Services, Supply Chain Strategy, Logistics News, Logistic Leaders