I have heard about the family logistics business for as long as I can remember. I've heard my parents and grandparents come home and talk about the latest successes or failures of the company. I never really understood what they were discussing and wasn't always interested at such a young age. All I cared about was sports and being outside with friends.
My Summer Internship: My name is Nick Harmon and I will be a sophmore, majoring in Business at Mount Vernon Nazerene University in Mount Vernon, OH. This summer I was given the opportunity to intern at my family's business—Spartan Logistics in Columbus, OH. They are a third-party logistics (3PL) logistics company, family owned and operated since 1988. They've grown from a small, regional public warehouse and distribution provider, to a logistics company with 13 strategically placed locations throughout North America.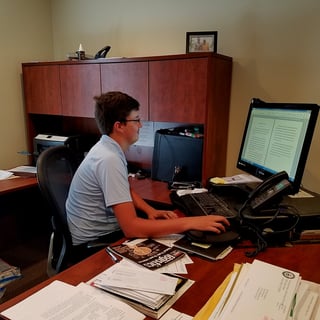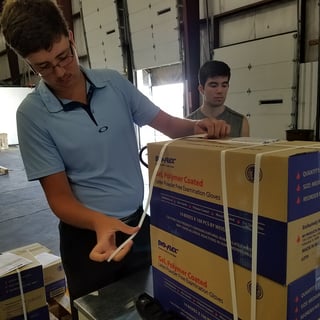 Typical Responsibilities on the Job:
Over the summer, I was tasked with working on financial projection spreadsheet projects, assisting in marketing functions, and also hands-on experience in the warehouse. I accompanied my Grandfather on business trips and meetings. All of these opportunities have truly changed the way I view the business and the business world. It has made me appreciate how important the family business is to so many people, and has helped me gain insight into what a successful business should look like.
The Most Important Lesson I learned:
One experience in particular that stood out more than others, was traveling to the Spartan Fort Smith, Arkansas warehouses with the founder of the business, Ed Harmon. We went to many meetings and spent many hours at the warehouses—I was glad I had the chance to accompany him. I learned a lot about the behind the scenes operations, how they run and the things that are most important in order to be successful. It is not easy to do, and I saw the hard work that the employees accomplished daily.
My Advice for Others Seeking an Internship:
If you ever have the chance to intern or work at your family's business, I would highly recommend it. One benefit I have found with interning along-side my family is that it is comfortable to have your parent as your boss. You know you can go to them at any time with questions and won't be as afraid, as some people might, of asking a boss that you don't really know. Another benefit to interning at a family business is that you can take pride in knowing that your work mattered, as opposed to working for a big corporation and not being seen. You feel like you are a part of the business and want the company to succeed.
What it Taught Me About Working in the Real World:
I'm definitely glad I have received the chance to work at Spartan for the family business this summer. I've gained valuable experience and knowledge that I would have never participated in, in the classroom. Like school, it means putting in countless hours each week to be successful. It is definitely still important to go to class and learn at school, but it does not involve the networking, hands-on and participation in the business.
I still have a couple of years left before completing college, and much to learn, but I am looking forward to having a career and working with my family's business one day.
Topics: Logistics Internship