The Ohio State University hosted a discussion of Disruptive Innovation in Logistics at the Harvard Business School of Columbus in Columbus, OH. Spartan Logistics President, Steve Harmon, was asked to give a presentation to an audience, piggy- backing the discussion. Steve's presentation —Big Data in Logistics, focused on how big data is revolutionizing many fields of business, and logistics analytics is one of them. The complex and dynamic nature of logistics, along with the reliance on many moving parts that can create bottlenecks at any point in the supply chain, make logistics a perfect case for big data.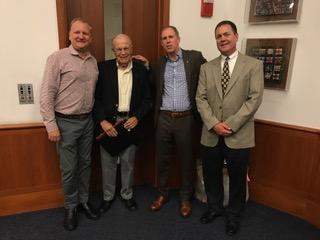 In case you are not familiar with the term…Big Data- It is essentially the ability to mine billions of data points to make better predictive decisions. Logistics- especially the 3 V's of Velocity, Volume, and Variety has always been reliant on forecasts; if there is one thing we know about predictions about the future it is that they are always wrong. Supply chains have always been dependent on measuring statistics, point of sale data, and quantifiable performance indicators. Big Data is something else- it is driving the car more effectively with a better roadmap, rather than just a rear-view mirror.
But big data requires a large amount of high quality information sources to work effectively. In 2008 the number of available bytes of data passed the number of stars in the universe. In the last 10 years, it has doubled every two years and is now 60 times that number! Where is all of that data coming from? Some examples:
Traditional enterprise data from operational systems
Retail point of sale information
Traffic & weather data from sensors, monitors and forecast systems
Vehicle diagnostics, driving patterns, and location information
Cell phone applications, many providing data in the background
Financial business forecasts
Advertising response data
Website browsing analytical data
Social media data
Internet-enabled products and RFID tags
So clearly, there are many ways that data systems can be fed the information they need. All of these data sources and potential use cases have lead DHL to say that big data and automation technology will lead to "previously unimaginable levels of optimization in manufacturing, logistics, warehousing and last mile delivery".
Big data aims to address many of these challenges. Because of the low cost and ubiquity of fast mobile internet and GPS enabled smartphones, as well as the spread of the Internet of Things through sensors and scanners, shippers are able to see how the delivery process goes from start to finish – even during the last mile.
Places to use data to deliver a better, faster, cheaper customer experience: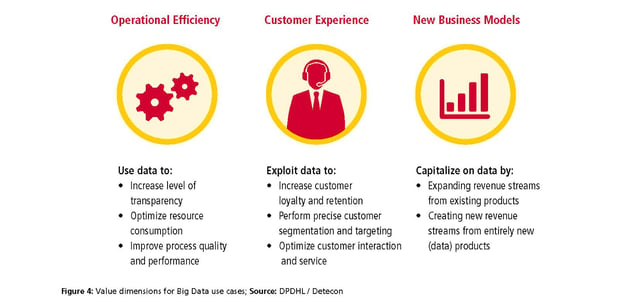 In any case, it looks like the future is bright for logistics companies that are willing to take advantage of big data.
According to one study, 98% of 3PLs said that improved data-driven decision making is "essential to the future success of supply chain activities and processes". Additionally, 81% of shippers and 86% of 3PLs surveyed said that using big data effectively will become "a core competency of their supply chain organizations".
In any case, it looks like the future is bright for logistics companies that are willing to take advantage of big data. Here are some examples of what this could look like:
The Last Mile of Shipping Can Be Quickened - The last mile of a supply chain is notoriously inefficient, costing up to 28% of the overall delivery cost of a package.
Reliability Will Be More Transparent - As sensors become more prevalent in transportation vehicles, shipping, and throughout the supply chain, they can provide data enabling greater transparency than has ever been possible.
Routes Will Be Optimized - If you underestimate how many vehicles a particular route or delivery will require, then you run the risk of giving customers a late shipment, which negatively affects your client relationships and brand image. Optimizing saves money and avoids late shipments.
Sensitive Goods Are Shipped With Higher Quality -

Keeping perishables fresh has been a constant challenge for logistics companies. However, big data and the Internet of Things could give delivery drivers and managers a much

better idea of how they can prevent costs due to perished goods. A temperature sensor inside the truck could alert the driver, and suggest alternate routes.
Automation of Warehouses and The Supply Chain -

The ability to accurately predict demand in every DC, retailer, and customer is the holy grail of being able to deploy inventory where and when it is needed.

Better inventory deployment and labor management -

For retail store managers, planning shifts to meet customer demand is a sensitive task- overstaffing kills profitability, and understaffing results in angry customers. Planning has always been done based on history. One retailer took into account the following additional data:
New delivery times
Local circumstances and holidays
Road construction
Weather forecasts
Big data and predictive analytics gives logistics companies the extra edge they need to overcome these obstacles. Telling the future will still never be perfect, but can be better. Sensors on delivery trucks, weather data, road maintenance data, fleet maintenance schedules, real time fleet status indicators, and personnel schedules can all be integrated into a system that looks at the past historical trends and gives advice accordingly.
UPS is a real-world example of big data logistics leading to big savings. After examining their data, UPS found that trucks turning left were costing them a lot of money. In other words, UPS found that turning into oncoming traffic was causing a lot of delays, wasted fuel, and safety risk.
As a post from The Conversation titled "Why UPS drivers don't turn left and you probably shouldn't either" states, UPS "claims it uses 10m gallons less fuel, emits 20,000 tons less carbon dioxide and delivers 350,000 more packages every year" (after making the change). 10 million gallons of gas is a lot of money – that's some serious benefit and a big data example in supply chain. UPS drivers now only turn left about 10% of the time, opting to go straight or turn right instead. Due to this "left turns only when absolutely necessary" strategy, UPS has also reduced the number of trucks it uses by 1,110 and reduced the company fleet's total distance traveled by 28.5 million miles.