---
Some days this feels like the best of times for the those who operate logistics companies and who operate industrial real estate, and the worst of times for those looking for a bargain on warehouse space. Despite moderate economic growth, the U.S. industrial market continues to expand. Nationwide, warehouse vacancy decreased to 9.2%-in the first quarter of 2016. This is the lowest it has been in 15 years. In certain markets, it is even lower, sometimes just a few properties. Moreover, the Class A and B space was the first to be absorbed; much of what is currently available is Class C and D- mostly 50-year obsolete properties and shuttered manufacturing plants. National warehouse and distribution center demand is running from between 225 million and 230 million square feet per year lease, while new supply remains at roughly 165 million square feet.
Are you challenged to find high quality warehouse space and service providers where and when you need them? Spartan Logistics has been planning for this day for 25 years.
---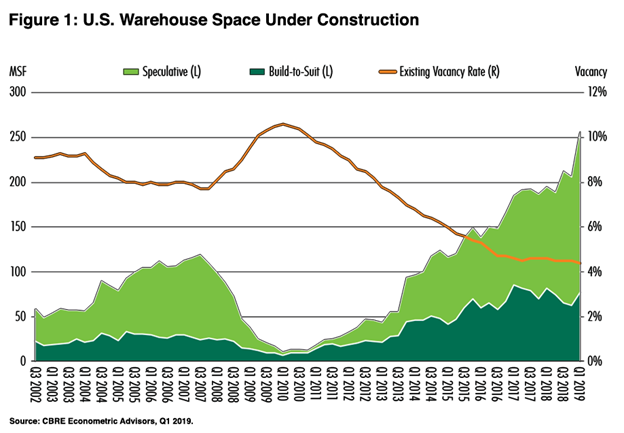 ---
Warehouse rent is up 10-15%, and certain transactions inflate bidding rents even above asking prices for the best properties. As a result, this makes deals harder to close and Landlords are demanding shorter term deals as well as higher escalator clauses. Typically these market conditions result in new construction, especially of speculative construction. However, this has been limited due to financing limitations, uncertain consumer good demand prospects, and a desire of the largest builders not to overbuild. Prologis Inc., the largest owner of warehouses and distribution centers in the US, reported a record 20.1% increase in rents in the first quarter of 2016, gains the company attributes to limiting new construction despite rising demand.
For 30 years, 3rd Party Logistics operators have followed the same basic playbook: solve a problem with our customer, then lease space in the correct place for a lease term that matches the service contract term. Industrial space has generally a commodity- always available at the market price and generally homogeneous. The premiums were earned for excellence in service, technology, efficiency, and freight savings.
However, the new realities of the changing industrial market are putting pressure on the logistics sales process. Space itself if at a premium and can longer be considered a commodity in most markets. We have lost 2 deals in the last quarter since we could not find space in the market acceptable to the customer and that could be ready in the timeframe needed. We are quickly headed to the point where the warehouse space itself will drive the transaction. This is transformative in several key ways:
Operators who control their space, either through ownership or long-term lease, will not be at the mercy of real estate owners in terms of rate, lease term, or other matters. The visionaries who had the foresight and capital to gain control of space in the 2008-2011 time frame will be able to choose the customers they want to help and control the space they put these shippers in.
Those who don't control their own space will be reliant on others for solutions. This does not work out well. In one recent transaction, a customer had 2 weeks to find 70,000 -100,000 square feet for a large overflow project in a tertiary market. There were only 2 buildings available that met their needs, and one of those spaces did not even include offices or bathrooms. The first space went to a longer term tenant, and the second space could not draft and execute a lease in the time frame needed. The customer eventually paid increased freight costs to ship the excess inventory to another market.
The ability to move fast and close a deal will be critical- make sure your team is ready to go. If you are going to be in the market for space you need it its crucial to start with a really experienced real estate agent IN THAT MARKET and also have your banker, insurance, lawyer, systems, and operations staff ready to move on an opportunity quickly. I can't believe how many deals are readily available but it will take 60 days to get phones and internet installed and working.
Don't expect a bargain. If space is available, be thankful. Be a good Tenant and keep your promises. The Landlord will have plenty of other options if you don't.
Make sure your warehouse contracts allow you to capture all of these pricing increases along to the underlying Customer/ Shipper.
Spartan Logistics, nearly from its inception, made the strategic decision to control the real estate we operate. Today, we own over 2/3 of the 3 million square feet of industrial space we operate, and our owners control another 2.5M square feet of space we directly lease to other tenants.
In addition, we control our own construction company, real estate brokerage company, and property management company. This vertically integrated solution allows us to control class A industrial space where and when our Customers need as, at prices and terms extremely competitive in today's market.
Spartan Logistics- How can we help you?
---